Super Anime Store
Regular price
Sale price
$5.99
Unit price
per
Sale
Sold out
12 in stock
Official Product By MTG

Cute and Collectible

Makes a great gift

Limited Availability
Good morning class, and welcome to Strixhaven. My name is Professor Z, and I will be your guide as we explore the wonders of Arcavios's premier magical university and the myriad products available with Strixhaven: School of Mages. Please note that your grade in this class is based entirely on your performance on the questions peppered throughout this article, so please do your best to pay attention.
Onward to our first subject:
Our first lesson will be on Set Boosters (and yes, this will be on the test). Set Boosters are designed for those times where you just want to kick back and crack open a pack of cards. They're quite fun to flip through and contain all sorts of surprises. In each 12-card booster, you'll find:
1 Mystical Archive card (uncommon, rare, or mythic rare)
1 Lesson card of any rarity
1 Traditional foil card of any rarity*
1 Card from

 

The List

 

in 1 out of 4 boosters
(*This includes global Mystical Archive cards in all non-Japanese Set Boosters, and both global and Japanese alternate-art Mystical Archive cards in Japanese Set Boosters.)
Plus, you get a delightful art card, 1 in 20 of which feature a foil-stamped logo or artist signature! There may be a couple of terms you are unfamiliar with here, but this reading assignment should elucidate the matter.
Mystical Archive cards, named for both their anagogical and Athenaeum-like nature, are presented in two varieties:
The global versions (pictured on the left, above) are available in all Set Boosters in all languages. In Japanese-language Set and Draft Boosters, however, 50% contain a card with a unique frame and gorgeous art by a Japanese artist. If you are outside of Japan, fear not. Japanese-language boosters will be available worldwide, and you're also guaranteed one or more of the variant Japanese Archive cards in Collector Boosters of any language.
Set Boosters are available individually or in displays of 30 packs. Each display purchase may be eligible for one of these awesome foil Buy-a-Box promos (ask your store!):
Dragonsguard Elite is available normally in Set, Draft, and Collector Boosters, but this awesome art by Daarken is exclusive to this promo.


View full details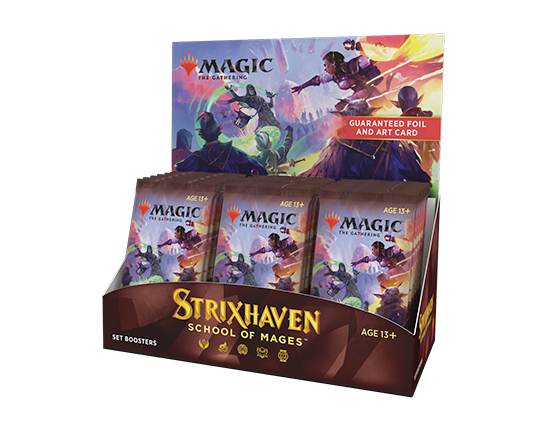 Love this store! They recently got an upgrade and it's a lot bigger. Best anime store in south FL
⭐️⭐️⭐️⭐️⭐️